Note: Custom Homepage is a premium feature or service. This article only applies to your program if your SocialChorus contract includes this premium functionality. Please contact your Engagement Manager with any questions about feature availability for your program.
What is Custom Homepage?
Connect your employees more effectively with Custom Homepage, a dynamic, everyday, communications landing page for your intranet. Take control with flexible layouts to prioritize the personalized news and information your employees need. For example:
Position C-level and leadership channels with the most prominence. Devote your top headlines to CEO announcements, crisis communications, or mergers and acquisitions.
Move all community-generated photos and content above the fold to recap trade shows, company parties, and fun outside the office.
Take command of onboarding surges by educating new hires with easy-to-access training and information.
Drive a deeper commitment to your enterprise values. Customize page sections for initiatives like diversity, equity and inclusion, environmental sustainability, and workplace health and safety.
You can select from Featured, Trending, Latest, From the Community, and individual channels with the option to reorder page blocks whenever you choose. Hero, Grid, and Gallery layouts for each section can be adjusted for a homepage design that meets your communications objectives.
Example of Section 1 and 2 Configured with Hero vs Gallery & Grid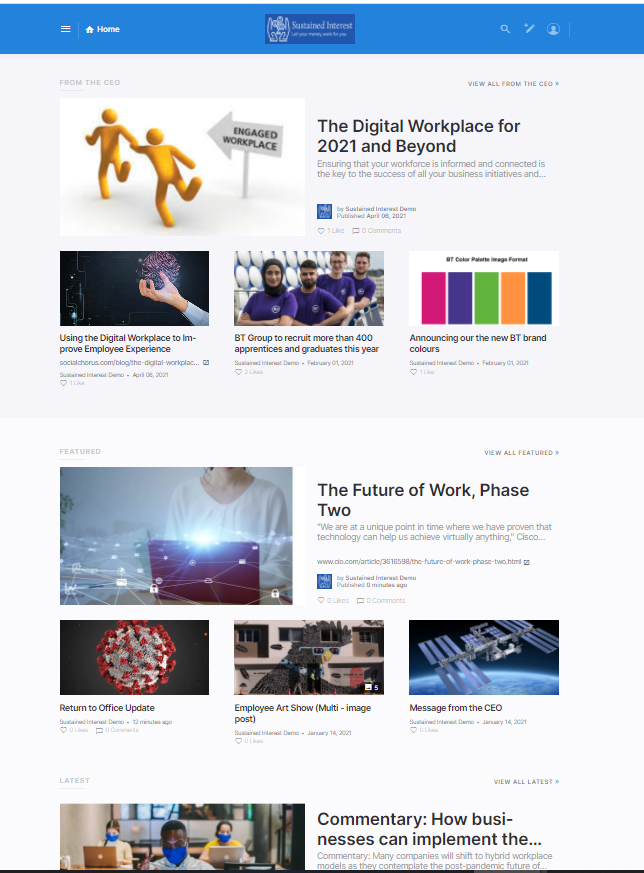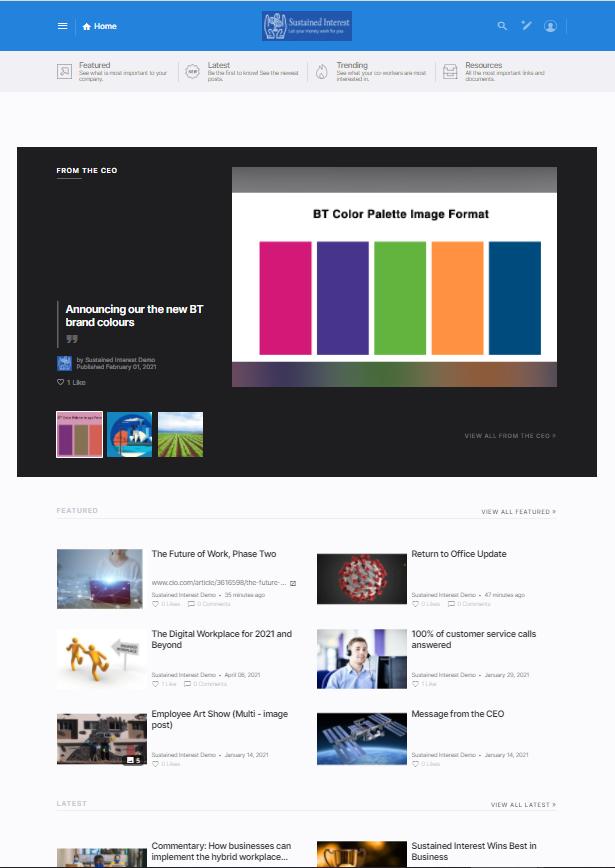 What, Exactly, Will Users See?
Custom Homepage is for the web experience only, changes to the Custom Homepage are not reflected in the mobile app experience.
Whether set to default or customized, we avoid duplicating the display of content across sections of the homepage, so if Homepage is customized so that a public channel is now one of the top five sections, any content published to that channel will appear in that channel's section, and not in Featured, Latest, or Trending.
Some sections on the Homepage are not customizable - Custom Homepage allows you to customize just the first 5 sections. Below those sections, we will display sections such as Recommended Channels, New Channels, or Most Popular Channels depending on the program, channel activity and settings.
Users will not always see all five sections that you have configured. Some sources are dynamic, so if there is not enough content to fill the section, the section may not appear to users (ex. From the Community). In addition, the presentation styles Hero and Gallery are not compatible with mobile web browsers. This means that users accessing the web experience on their mobile devices will only see the Homepage sections that are set to Grid.
How to Create or Edit a Custom Homepage
As with all premium features, you can discuss feature availability for your program with your Engagement Manager and/or review your strategy before implementing changes.
Sign into Studio as an Administrator or Program Manager.
Navigate to the gear icon in the top right and choose Configure Program.


Select the User Experience tab.

Scroll down to Modular Feed or Custom Homepage.

Click on a section to edit the section.

Select the dropdown to change the source. Note, each source can be chosen only once (you cannot display Featured twice, or the same channel twice).

Featured - recently featured content from channels the user has access to.
Trending - highly engaging content from channels the user has access to.
Latest - most recently published content from the channels the user is following.
Channel - recently published content from a specified channel.

You can only choose "public" channels which are open to all users.
The Channel section is always displayed, even if content is older and has been seen before. Consider a strategy of publishing new, fresh content to the channel every week.

From the Community - image posts submitted by Members in the community.

Select the dropdown to change the presentation style.

Hero - larger images displayed asymmetrically.
Gallery - black box with very large spotlight image and much smaller thumbnails.
Grid - smaller images displayed evenly in a grid.

Click Done.
Edit other sections as needed by selecting the section, changing the dropdowns, and clicking Done.
Click Submit to commit all changes. After clicking Submit, changes take effect in the web experience immediately! Users that are currently signed in may need to refresh the page to see the changes.
How to Reset to Defaults
If you would like to restore the defaults, you can quickly revert all changes by selecting Reset to Defaults and say Yes to confirm.
Once set back to default, any past customizations will be lost. To restore customization, you must manually edit the settings again. The Homepage can be re-customized at any time.