Content Amplifiers enable you to embed your program's content into any webpage that supports an iframe or script code, such as your company intranet. Content Amplifiers give you the flexibility you need to customize the look, feel, and content without requiring extensive implementation work for you or your IT team.
Examples
SC Guide embedded directly in this article - two different templates. This is LIVE - you can click on the content!
Kiosk template - auto-advances through the content, simple clean interface - click to enter the web experience and see the content in detail.
Standard template - notice that you can like or bookmark content IN the Amplifier!
Acme 360 embedded into a company intranet page (screenshot):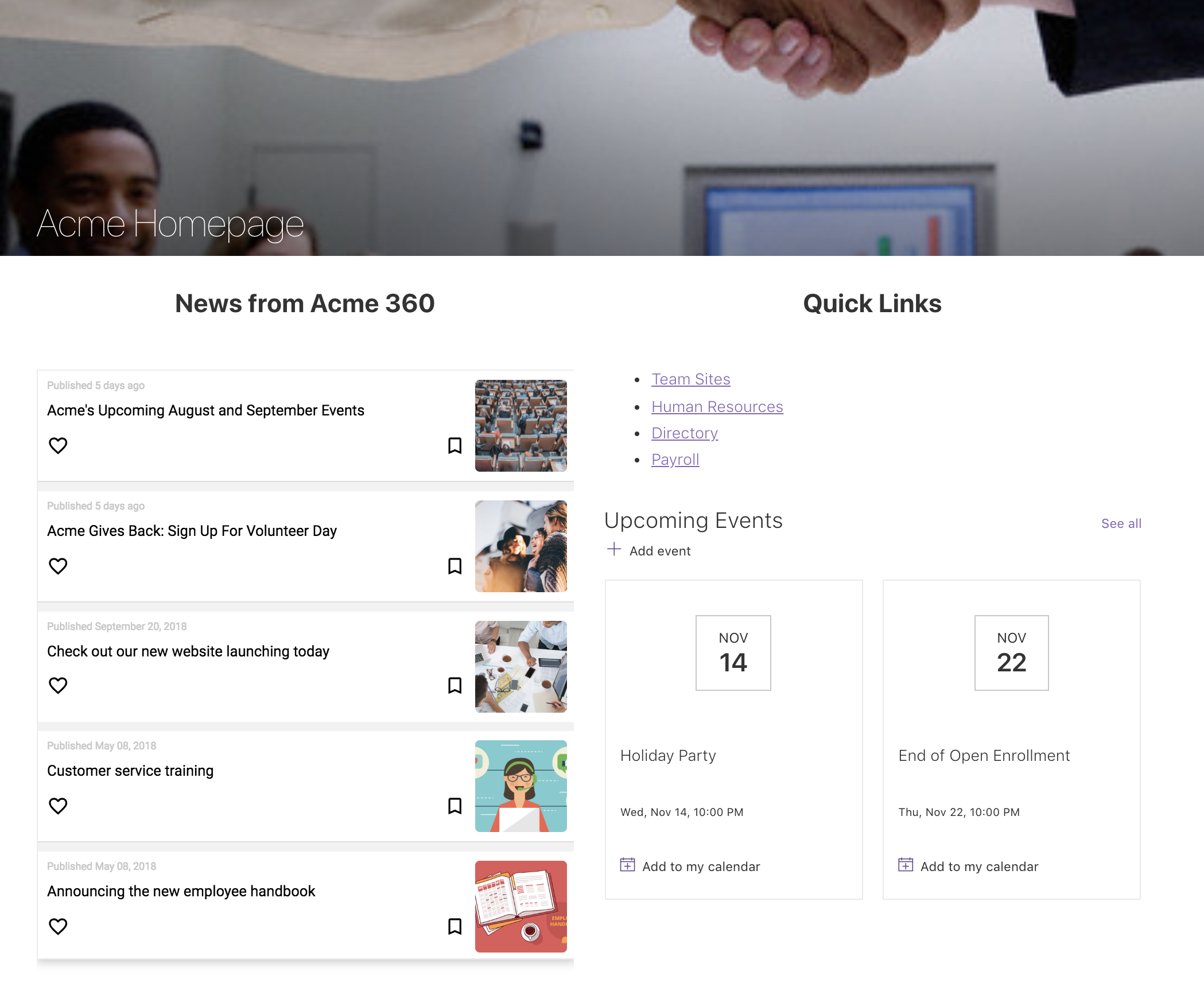 Set Up a Content Amplifier
In Program Studio navigate to Publish > Amplifiers.

If Amplifiers is not available, please reach out to your Engagement Manager.

On the Amplifiers page, click the plus [+] button in the top right corner.
Click on untitled feed to name your feed (no character limit).
Select a template.

Preview the look and feel of your template to the left of the settings bar.

Select a content source from the available options. All options will display content in the employee experience in chronological order (newest publish date at the top):

Content channels - display posts from one or more selected channels. Posts from selected channels will be interspersed and ordered by published date, starting with the most recent post.
Featured - display featured posts assigned to non-targeted channels.
Trending - display trending posts, defined by the same rules as the mobile app's Trending tab.
Personalized - display a user's personalized feed (ie followed content) if they are registered and following channels. If the user is not registered, or is not following channels, this setting will show a mixture of posts published to My Feed and the program's recommended channels.

Depending on the selected template and content source, configure additional settings:
Select content channels
Designate a number of posts per page
Display only posts with images, if desired
Color theme light or dark
Designate slide delay in seconds for templates that automatically change displayed content
Optional: Specify the width and height in pixels (no maximum dimensions). Aside from the mini-card templates, which show all images in a square format, the image sizing will depend on these set dimensions.
Optional: use your program's accent color for links.
Optional: Anonymous users can see private content (ie users that are not signed in)
Enabling this setting will allow anyone with access to the page where the Amplifier is embedded to view both internal and shareable posts.
When you enable this setting, you will be prompted to confirm that you understand that this will allow non-registered users to see internal content.
Click the Save button to save your feed and prepare the iframe and script code.
Select between direct link, iframe, or script code.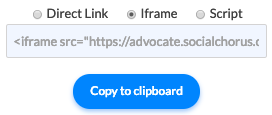 Iframe and script (ie javascript) are different methods for embedding the same content into a webpage. Some sites may prohibit the use of iframe, in which case you would want to see if you can use the script instead. Please check with your IT team.
Click Copy to Clipboard to copy the embed code. The code can now be shared with your IT team or pasted directly into the destination webpage.
Click Back to All to return to the Amplifiers page.
User Experience
You can preview how the content will appear while configuring a Content Amplifier. Select Logged In or Unregistered to see how content appears to users based on their signed in/registered status.
Logged In
Applies to registered users that are signed into the program. The following describes the user experience when anonymous users can see private content is set to OFF.
Content Amplifiers leverage a user's web experience sign in session. If a user is signed into the web experience and is fully registered, they will see the signed in view of a Content Amplifier.

Programs with SSO - if the user is signed into the SSO Identity Provider and they have pop-ups enabled, they will be automatically signed in.

Users that are signed in and registered can see both internal (non-shareable) posts and shareable posts in a Content Amplifier.
On templates that support liking and bookmarking, these users will be able to perform those actions.
Content is automatically refreshed when a new post is published in Program Studio. Users must refresh the webpage to see the newly published content.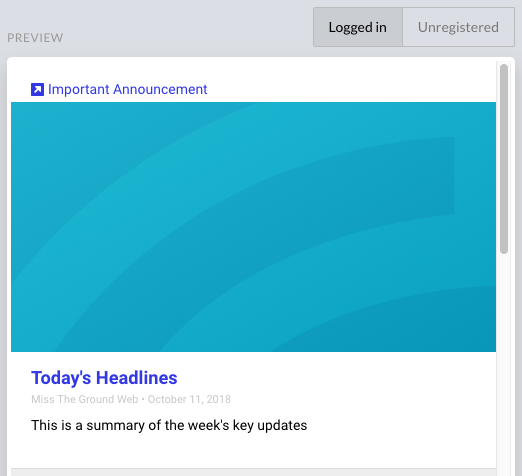 Unregistered
Users that have not registered or are signed out. The following describes the user experience when anonymous users can see private content is set to OFF.
If a user has not completed registration or is signed out, they will see only shareable posts.
Non-shareable content cards will still appear but with a lock icon for the image and blanked out text. This will help prompt the user to register or sign in.
At the top of an Amplifier, these users will see a branded prompt to register or sign in.

Programs with SSO - if the user is not automatically signed into the SSO Identity Provider, the sign in button will allow in-frame sign in.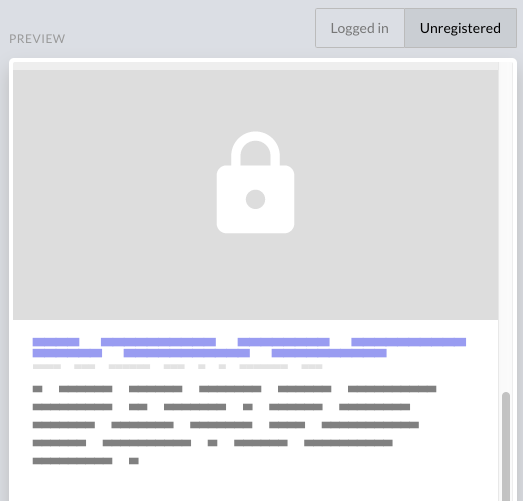 Anonymous Users Can See Private Content
If anonymous users can see private content is set to ON, the following applies:
All users will see both internal and shareable content, regardless of registration or signed in status.
There will be no prompt to sign in or register within a Content Amplifier.
If the users click to bookmark, like, or view full post users will be prompted to sign in (or register).
Metrics
Like web and mobile, activity that happens in Content Amplifiers will be reflected in your program Dashboard if users are logged in. Usage in Content Amplifiers will be reflected in Active Users, Activities, Reach, Clicks, Likes, and more.