Authorized studio users can use direct publishing to create and publish posts directly from the mobile app (version 3.7+). With direct publishing, submit content via the mobile app just like a Member would, however, instead of resulting in a post that needs review, posts created by authorized studio users will automatically be published to the selected channels.
Authorized Studio Users:
Administrators, Program Managers, and Publishers can immediately publish to any channel from their mobile app, whether the channel is set to auto-publish or not.
Channel Contributors can publish directly to their assigned channels (whether those channels are set to auto-publish or not). Posts in non-assigned channels will be treated like a submission from a Member.
Studio tools such as Smart Campaigns must still be managed in Studio.
Note: Direct publishing is not available via the web experience. This means that content submitted via the web experience will be subject to the 'for review' process. If you are an authorized studio user and find yourself submitting content via the web experience, we recommend switching to Studio or the mobile app.
How to Use Direct Publishing
Pre-requisites:
You must be a user with a Studio-level role of Administrator, Program Manager, Publisher, or Channel Contributor.

If you are a Channel Contributor, the channel you post to must be one of your assigned channels.

You must have access to the channel in the mobile app. In other words, if the channel is targeted

then you must be included in the channel targeting.
With the prerequisites fulfilled, all you do is follow the steps outlined in Submit and Edit Content to create a piece of content on mobile and choose a channel listed under Publish to Your Channels.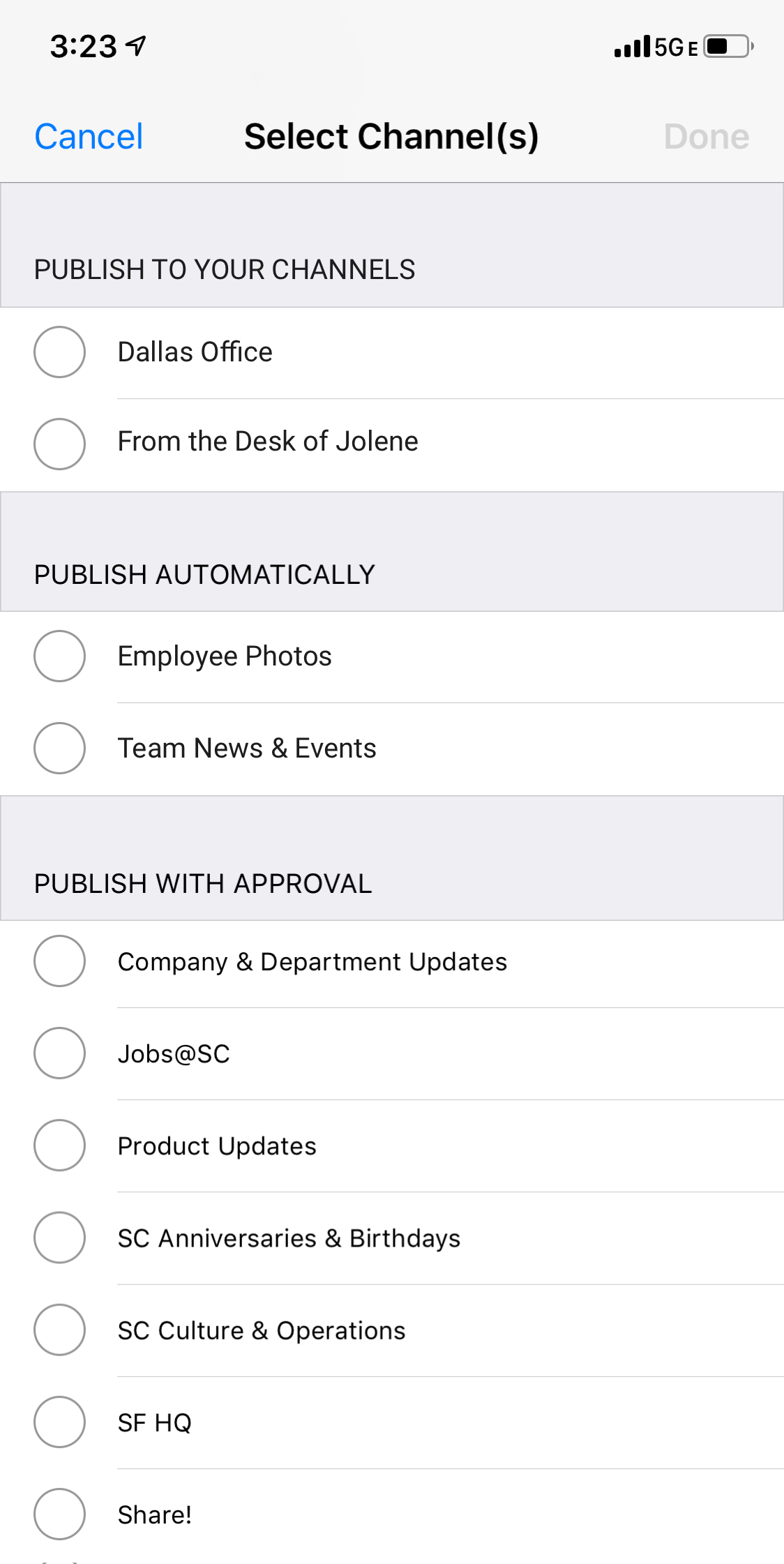 How to Edit Content on Mobile
Follow the steps outlined in the Submit and Edit Content article to edit any content you've created from the mobile app.
How to Analyze Your Content on Mobile
At any time, post authors can see in more detail how their posts are performing.
Log into the mobile app.
Tap the Profile icon in the bottom navigation bar.
Under Recent Activity, find the post you're looking to review. Open the post.
Tap the down arrow to open up the post metrics:

Reach: The total count of users that have interacted with the post
Opened: Total number of times the post was opened
Likes: Total number of likes on the post
Comments: Total number of comments on the post