This article reviews how to create and manage translatable content from Studio. Language localization for app navigation is already available by default for all web and mobile users.
If you do not see the translatable setting when creating or editing a content card in Studio, the feature has not been enabled for your program. If you would like to upgrade to this feature, please reach out to your Engagement Manager for pricing or email support@socialchorus.com.
Version Note
Translatable content is available on both the mobile app and web experience. However, mobile translations are only supported on mobile app version 3.7+. Please ensure your program's app is on 3.7 or above before enabling this feature.
Note: content translations are not supported on Content Amplifiers.
Default Setting
While creating or editing a post, Translatable is set to ON by default. The translatable setting turns on translations for the post you are working on. The translatable setting is available for all content types in Studio.

What is Translated
The translate button will allow users to translate the Title and Description fields of all content types, as well as the content included in the body of an Article. The translate button does not translate any comments on posts.
Viewing Translations
If a post is marked as translatable, users will see the translate button if the post's language (automatically detected) does not match their device language.
Members can then interact using the translate button on the content card on mobile or web. When translate is selected, the post is translated into the language of the user's device. Content translations are done through Amazon Translate.
Users can return the post to its original language by selecting the translate button again.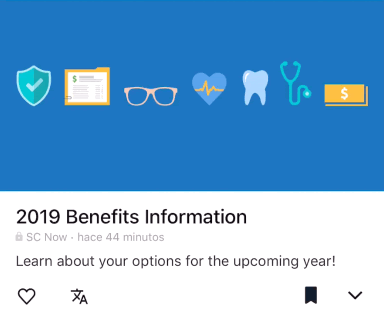 Translations on Mobile
How to Turn Translations Off
If Translatable is switched back to OFF in Studio at any time, users are no longer able to translate the post. The content will be displayed in the original language it was created in with no ability to change to another language.
In the full page post editor, switch the Translatable toggle to OFF and save your edits on the post to disable translations.

Supported Languages
Our translation tool utilizes AWS Translate, which supports the following 25 languages, for over 500 language pairings:
Arabic

Chinese (Simplified)

Chinese (Traditional)

Czech

Danish

Dutch

English

Finnish

French

German

Hebrew

Hindi

Indonesian

Italian

Japanese

Korean

Malay

Norwegian

Persian

Polish

Portuguese

Russian

Spanish

Swedish

Turkish