June 2021 Note: For a new embed feature with more customization and engagement options than Amplifiers, please refer to Content Microapps.
Note: Content Amplifiers is a premium feature or service. This article only applies to your program if your Firstup contract includes this premium functionality. Please contact your Customer Success Manager with any questions about feature availability for your program.
Content Amplifiers enable you to deliver content directly to your intranet, CRM, digital signage, extranet, and other locations that support embedding via URL, iFrame, or script code. For example, our Content Amplifiers work with Sharepoint, Sitecore, Salesforce, WordPress, Confluence, Teams and many more.
Content Amplifiers have the flexibility that you need to customize the look, feel, and selected content without requiring extensive implementation work for you or your IT team.
Examples
COMMunity content is embedded directly in this article (two different templates below). This is LIVE - you can click on the content!
Kiosk template with featured, public content: auto-advances through the content, simple clean interface - click to enter the web experience and see the content in detail.
Mini Flat template in "standard" display mode (prompts user to sign in if they are not signed in yet):
Set Up a Content Amplifier
In Studio navigate to Publish > Amplifiers. If Amplifiers is not available, please reach out to your Customer Success Manager.


On the Amplifiers page, click the plus [+] button in the top right corner.
Click on untitled amplifier to name your feed (no character limit).
Select a template.

Preview the look and feel of your selected template in Studio to the left of the settings bar.

Select a content source from the available options. Content source determines what content is pulled in, display mode (see below) will further filter the content. All content source options display content in the amplifier in chronological order (newest publish date at the top):

Content topics - display posts from one or more selected topics.
Featured - display featured posts.
Trending - display trending posts, defined by the same rules as the web experience and mobile app's Trending tab.
Personalized - display the logged in user's personalized feed (defined by the same rules as the mobile app's Latest tab) if they are logged in, registered, and following topics. All other users (not signed in, not following topics, or not fully registered) see a mixture of posts published directly to the My Feed topic and topics available to All Users that have been "Recommended".

Depending on the selected template and content source, configure additional settings:
Select content topics
Designate a number of posts per page
Designate whether you want links to open in a new tab or the same tab

Same tab selection requires the use of script (i.e. javascript) in Step 13 to embed the Content Amplifier

Display only posts with images, if desired
Color theme light, dark, or custom (select hex code)
Designate slide delay in seconds for templates that automatically change displayed content
If your platform has SSO sign in configured, you can select the SSO Auth Mode. Choose whether automatic sign in happens via a browser popup or a new tab.



For all Amplifiers, select the Display Mode.
Standard display mode - prompt users to sign in to see internal content.

Signed in and fully registered users see all program content - available to All Users, Targeted to groups the user is part of, Shareable posts, and Non-Shareable posts.
Not signed in or still registering users see public content only (Shareable and available to All Users) and are prompted to sign in or complete registration to see internal content (Non-Shareable or Targeted content).

Content Source note: when Standard display mode is combined with Selected Topics content source, targeted topics result in posts that prompt users to sign in. To assure some visible content for all users, consider selecting both untargeted and targeted topics.

Public display mode - show open content without asking users to sign in.

Display both Shareable and Non-Shareable content if the content is available to All Users.
Do not show Targeted content unless the user is signed in via the web experience. There is no prompt to sign in within the amplifier, however, clicking on a post in the amplifier to open the post details will lead the user to the web experience sign in page.
Content Sources note: when Public display mode is combined with Selected Topics, users are very unlikely to see any content if you choose targeted topics.
Content Sources note: when Public display mode is combined with Personalized content source, users typically only see content published to the My Feed topic and Recommended topics open to All Users.

Selected Users display mode - display content as though a specific user is logged in at all times.

Select a user. You can only choose Studio users that are also Registered in experience as your Selected User.

Display content as though the selected user is logged in. Viewers see content that is targeted to the selected user.
There is no prompt to sign in via the amplifier. If individual users are able to click on a post, they are prompted to sign in as themselves to see the post details.
Content Sources note: when Selected Users is combined with Selected Topics, content only appears if the selected user is part of the selected topic's targeting.
Optional: Specify the width and height in pixels (no maximum dimensions). Depending on the selected template, the amplifier's width and height can impact the size of the post images.
Optional: use your program's accent color for links.
Click the Save button to save your feed and prepare the iframe and script code.
Select between direct link, iframe, or script code.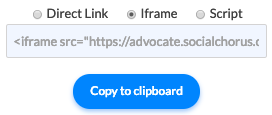 iframe and script (i.e. javascript) are different methods for embedding the same content into a webpage. Some sites may prohibit the use of iframe, in which case you would want to see if you can use the script instead. Please check with your IT team.
Click Copy to Clipboard to copy the embed code. The code can now be shared with your IT team or pasted directly into the destination webpage.
Click Back to All to return to the Amplifiers page.
User Experience
Content that is newly published in Studio will appear in the Content Amplifiers after the users refresh the host webpage.
Preview
You can preview how the content will appear while configuring a Content Amplifier. Select Logged In or Unregistered at the top of the page to see how content appears to users based on their signed in/registered status.
Logged In
The Logged In preview shows you what users that are Registered and signed into the program can see.
Content Amplifiers leverage a user's web experience sign in session. If a user is signed into the web experience and is fully registered, they will see the "Logged In" view of a Content Amplifier.
Programs with SSO - if the user is signed into the SSO Identity Provider and they have pop-ups enabled, they will be automatically signed in.
Unregistered
The Unregistered preview shows how the amplifier will appear to users that have not registered or are not signed in. What content the users can see will vary depending on your selected Content Source and Display Mode.
Measure Content Amplifier Success
We have a specific report for measuring the success of one or more Content Amplifiers. To access this report, please navigate to Analyze and look for the Content Amplifier Overview report.
Please note, activity that happens in Content Amplifiers is reflected in your program data only if users are signed in. Just like web and mobile, this means that activity by users who are not signed in is not counted towards Content Amplifier metrics. Signed in user activity is expressed in metrics such as Viewers, Activity, Reach, Clicks, Likes, and more.