By default, only Program Managers and Administrators can create or edit Campaigns from the Connect section of Studio. If your program has enabled Topic Manager access to Connect, then Topic Managers can also create or edit Campaigns from Connect - but only if they are associated with the audience of their assigned topics.
See Smart Campaigns for details about who can initiate a Smart Campaign while editing a post.
Campaigns Page
In Studio, open the Campaigns page from the top left menu, select Connect > Campaigns.

From the Campaigns page, you are able to view, edit, and create a copy of your program's campaigns. A campaign can be an email, push, or smart campaign, one-time or repeating, created by a Studio user in your program or created by Firstup.
You can search by the name of a campaign or filter the view to just email or just push notification campaigns.
Campaigns are sorted under different tabs by status.
Active - Campaigns to be sent in the future, in the process of sending now, or "listening" to user engagement. This includes one-time scheduled campaigns, repeating campaigns, and Smart Campaigns.

A Smart Campaign may remain under the Active tab for a short while as the campaign completes sending all notifications. Note that even a one-time Smart Campaign needs time to receive all push errors and then follow-up with an email. You can recognize a Smart Campaign by the campaign name "Announce Campaign: <post title>".

Paused - Campaigns that were once active and are now paused. You can pause a campaign from the edit campaign view.
Completed - Campaigns that have finished sending and do not have any future scheduled activity including new sends or listening to user engagement.
Draft - Campaigns that have been created but not yet activated.
Archived - Campaigns that were manually archived by a Program Manager.
On the Campaigns page under nearly all statuses you can click the metrics icon to view a quick snapshot of the metrics for a specific campaign send. For more details, navigate to the Sent page.
Pause vs Archive
To pause an active campaign, open the campaign edit dialogue. Click on the downward carrot next to Save Changes and choose Pause. This will prevent the campaign from going out, and you can reactivate at any time from the Paused tab.
Choose the Deactivate & Archive option if you want to remove a campaign permanently. Your campaign will then be moved to the Archived tab of the Campaigns page in Studio. You can still see the name of the campaign and the snapshot metrics, but you cannot reactivate the campaign.
Sent Page
Open the Sent page from the top left menu, select Connect > Sent.

The Sent page provides a full list of campaigns that have gone out to users, including one-time and repeating campaigns. Each time a repeating campaign is sent, a new record will appear on the Sent page. Sent campaigns appear in descending order by date and time, with the most recent sends at the top. You can search by the name of the campaign to find the send history of a specific campaign.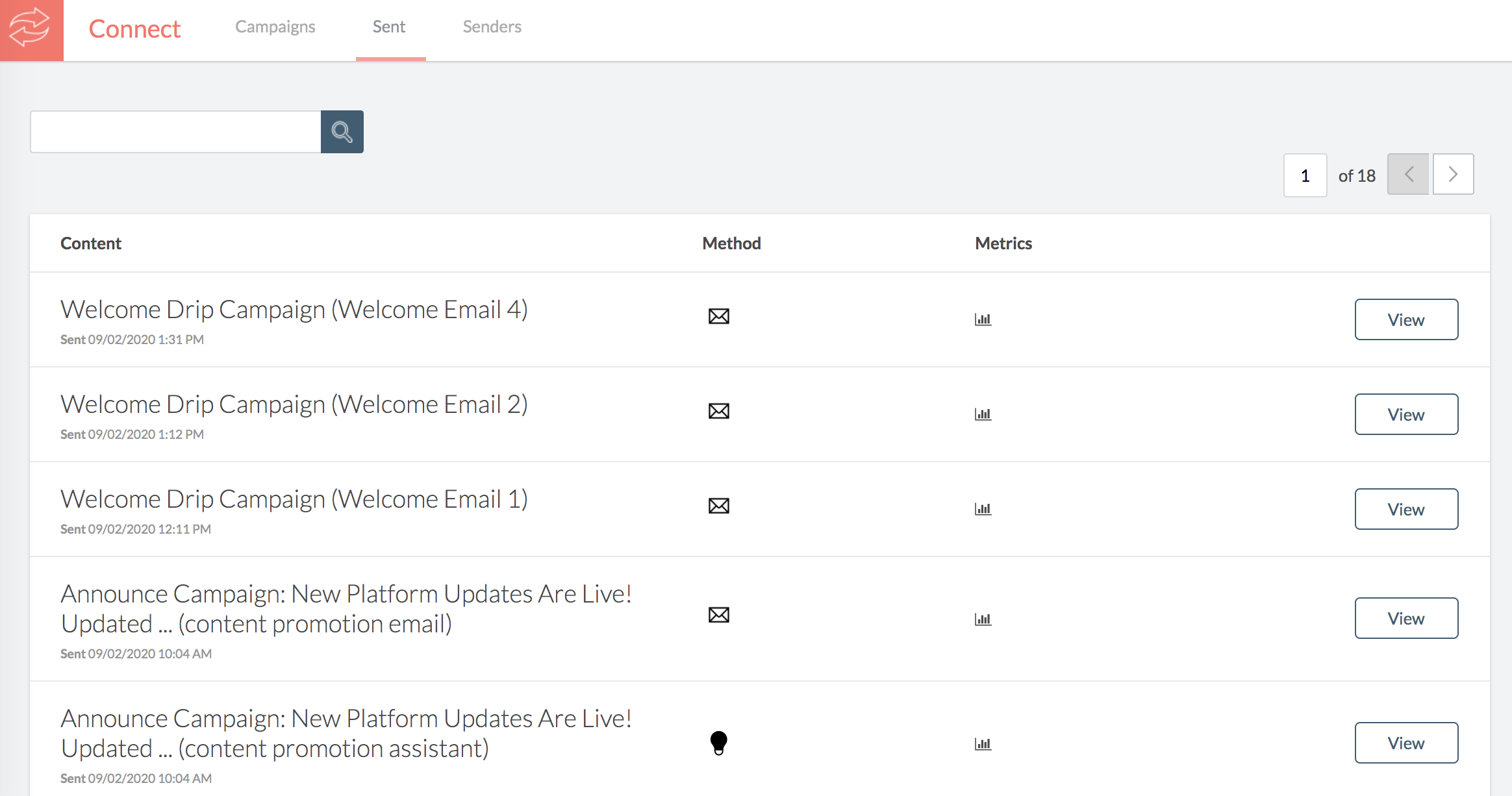 Click View to see the send history in detail. The sent campaign view includes a list of versions on the left so that you can toggle between all sends of the campaign. The metrics for the currently selected version are tallied on the right. A preview of the content is in the middle.
Metrics
Some metrics may not display depending on the campaign. For example, Drip Campaigns do not include push notifications so that metric does not need to be displayed.
Metrics for Multiple-Step Campaign (ie Smart or Drip)
Targeted - Number of users in the targeted group(s) at the time the notification was sent.
Email - Number of users that we attempted to reach by email.
Push - Number of users that we attempted to reach by push notification.
Assistant - Number of users that we attempted to reach by in-app Assistant.
Metrics for Single-Step Push
Target - Number of users in the targeted group(s) at the time the notification was sent.
App Users - Number of users who have an iOS or Android app installed for the program.
Delivered - Number of users that we delivered a notification to their device.
Notif Disabled - Number of users who do not have push notifications enabled.
Unreachable - Number of users who could not be reached. This number indicates that we could not deliver the push notification for a reason other than notifications being disabled.
Metrics for Single-Step Email
Some metrics may not display depending on the campaign. For example, single-step campaigns can be more detailed than multiple-step.
Sent - Number of users in targeted group(s) at the time the email was sent.
Delivered - Number of emails successfully delivered to users' addresses.
Open - Total number of opens. A single user can open an email multiple times.
Error - Number of emails that failed (for example, because of an invalid email address).
Campaign Sources
Campaign Templates
When creating or editing an email or push campaign based on templates, most templates allow a great deal of editing. You can adjust subject lines, the body of the message, what content is linked, variables such as <username> and <program name>, etc. However, some items including the general layout cannot be customized.
If you would like to have unique email templates that emphasize your brand or achieve an effect that the pre-existing templates do not have, consider implementing a custom email template. To discuss pricing and next steps for custom email campaign templates, please contact your program's Customer Success Manager.
Some templates include content, which can be filtered in several ways. For more detail about content email options, please refer to the Create an Email Campaign article.
Pre-Populated Campaigns
When a program launches, we will pre-populate some recommended campaigns into your program.
Post-launch, we sometimes populate new campaigns directly to your active or drafted campaigns if we believe that the campaigns will be of huge benefit to your program.
You can edit the pre-populated campaigns to customize the sender, though the subject and body may have more limited editing options than campaigns created from templates.
If you're not ready for a campaign to go to users, you can pause or move the campaign to draft. If you are certain you will not use the campaign, you can archive the campaign - but remember that archive does not allow for reactivation at a later date. We recommend reviewing the benefits of all Firstup-created content with your Customer Success Manager before archiving a campaign, as we carefully craft these campaigns to drive engagement and improve user experience.
Smart Campaigns
While creating or editing a post on the Planner page you can schedule a Smart Campaign in order to drive users to engage with a specific post. Depending on how you configure the campaign, the Smart Campaign may include both push notifications and emails.
Once the post is published and the Smart Campaign is initiated, the Smart Campaign can then be monitored on the Campaigns page. The title of the Campaign will include the campaign type.
For example, in the following screenshot, an Announce Smart Campaign was initiated when "10 Minute Master Class - Initiatives" was published: