Experience Registration Status
A user's experience status indicates the user's current registration status in the employee experience (mobile app and web experience).
Created - added to the program's list of users, but the user has not started to register in the employee experience yet.
Invited - invitation to register for the employee experience has been sent to the user.
Registering - started to register but has not completed registration yet. Depending on the program, the user may be able to see public content (shareable content open to all users). Depending on how your program is configured, you may not see custom attributes for a user until they are fully Registered.
Registered - completed registration and can fully access the employee experience, including the ability to share content.
There is no registration status for Studio.
Blocked Status
If a user appears as Blocked, then they are blocked from accessing either the employee experience or Studio and they will not receive emails or notifications from the program.
Program Role
A user's program role indicates the level of permission to access your program - employee experience only or employee experience and Studio. Studio-level roles have different levels of access within the Studio.
Member
Not able to access Studio, only allowed to access the employee experience (mobile app or web experience). Experience status indicates if the Member can access the full feed or must still complete registration.
Analyst
Able to see the Analyze page under Measure in Studio for a specific program.

Topic Manager
Only able to see the Planner page under Publish and has restricted access to content based on assigned topics. See more detail in our guide to leveraging Topic Managers.

Optional: Topic Managers may be able to access Connect if your program enables this functionality.

Publisher
Able to see pages under both Publish and Measure in Studio for a specific program.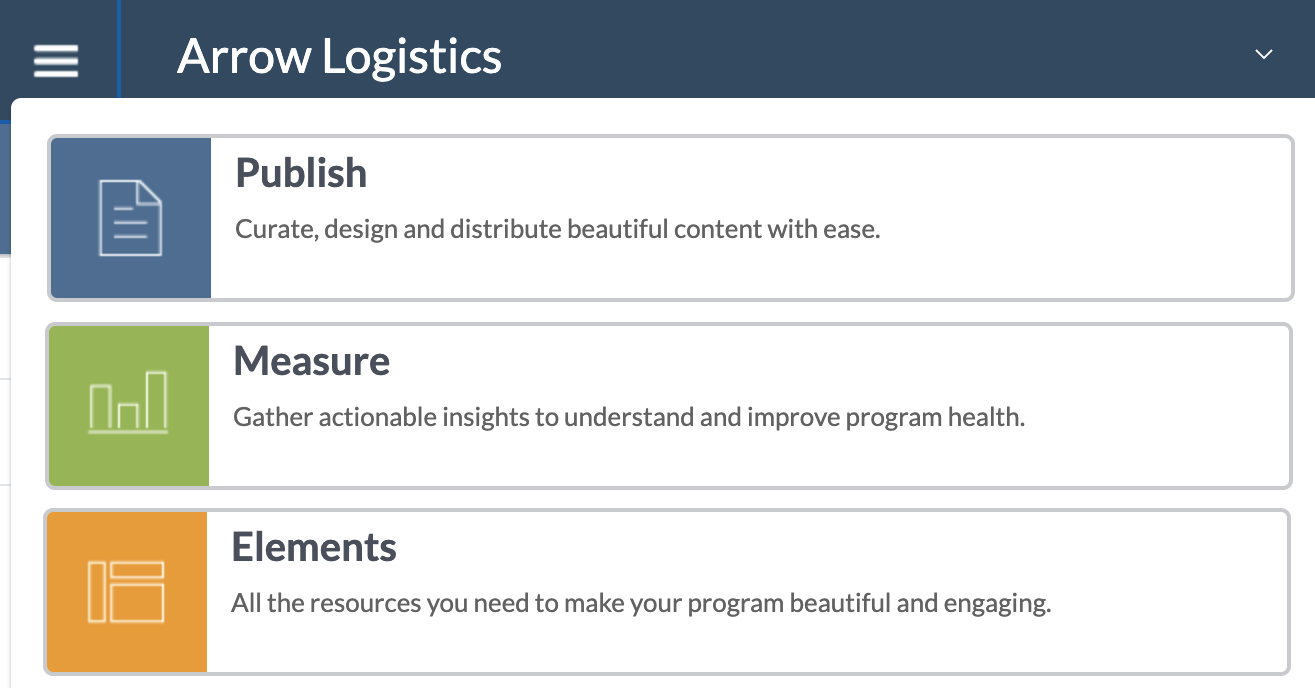 Program Manager
Able to see all sections (Publish, Connect, Measure, Manage, Configure)of Studio for a specific program. Able to grant (or demote) other Program Managers, Publishers, Topic Managers, and Analysts.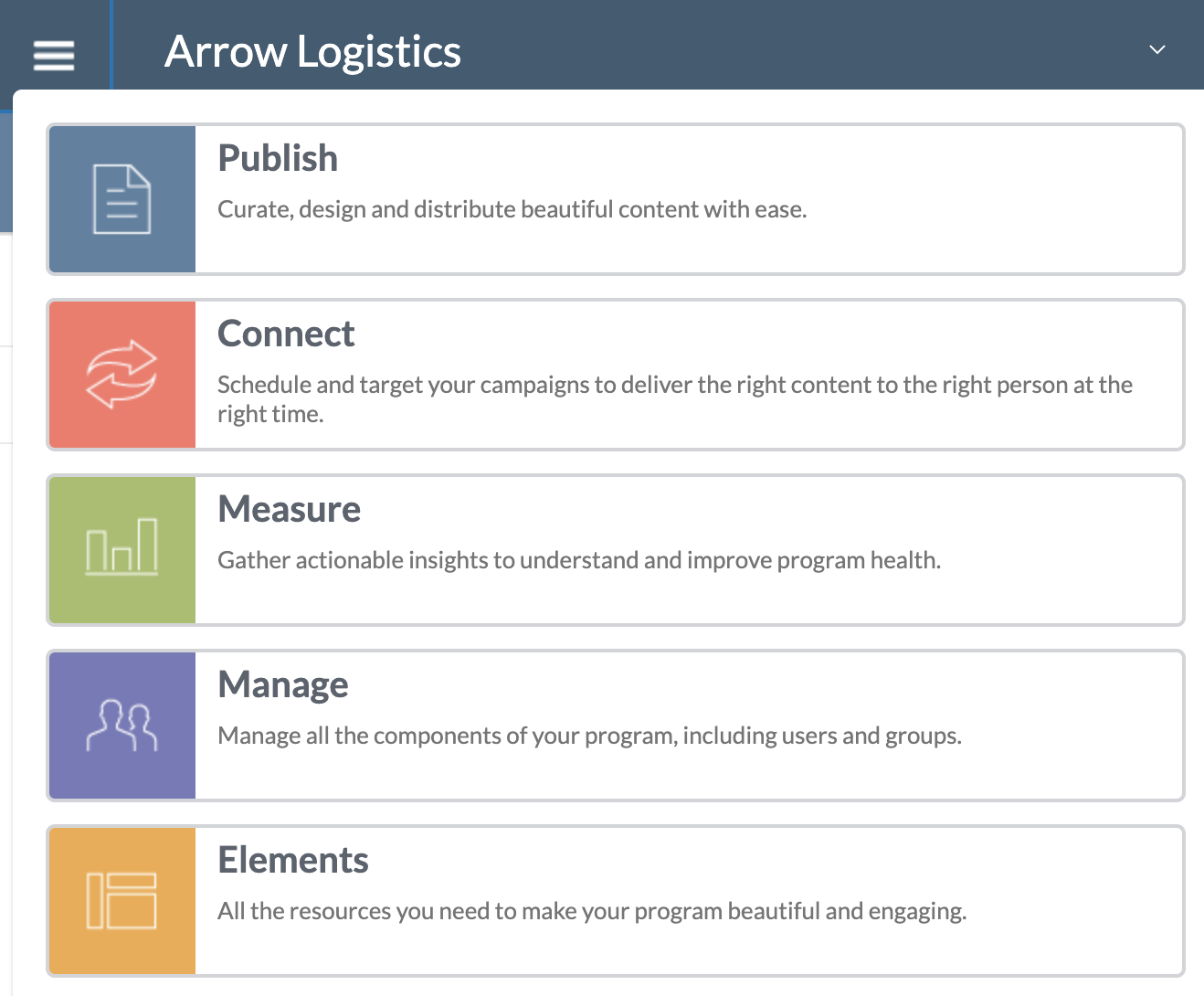 Administrator
Able to see all sections of Studio for all programs within an organization in Studio. Able to edit the role and notification settings of all users including Administrators and other Studio users.


Administrator accounts are unique from other roles as they operate at the organization level instead of the program level. If your organization has more than one program, you may want at least one Administrator to help manage all of the programs.
Administrator accounts are managed through a specific program's user page like other users, but an Administrator's account appears in all programs within the program's organization. For example, if you create an Administrator in one program, they will become an Administrator in all programs within that organization.
In contrast, a user can be a Member of one program and a Program Manager in another program within the same organization. If the user is promoted to Administrator they would instantly become an Administrator in all programs within the organization.
Roles Permission Table
Action
Administrator
Program Manager
Publisher
Topic Manager
Analyst
CONTENT

Create, publish, and archive content from Studio
a
Create and manage polls
Direct publishing from web or mobile
b
Configure post:

Initiatives (assign)
Shareable
Commentable
Resource
Translatable

a
Assign another Studio user as the Author
c
Delete user comments
a
Feature content
Hide drafted content
Manage initiatives - create, edit, disable, delete
Manage topics - create, edit, target, and assign Topic Managers
Connect feeds
CAMPAIGNS


Set up Smart Campaign, including Sender
a
Create and send email and push notifications via Connect
a,c
Target all users in the program
a,c
METRICS
Review post metrics via Planner
a
Review post metrics and other program data via Measure
Review campaign metrics via Connect
a,c
USER MANAGEMENT
Create, edit, export groups
Manage non-Administrators - edit details, block, forget, change roles
Manage Administrators
OTHER
Modify program settings under Configure
Modify organization settings under Configure
Full access to all programs within the organization
Topic Manager Details
a Topic Manager feature access is restricted to their assigned topics. Topic Managers can:
Always see their own untargeted drafts (posts or campaigns).
Only see posts created by others that include at least one assigned topic.
Only see campaigns created by others that are exclusively targeted to their assigned topic audience.
Only edit or archive posts or campaigns that are exclusively published to their assigned topics. For example, this means that Topic Managers cannot edit items that are targeted to both their topic and an unassigned topic.
Only see metrics associated with the topics that they have access to, and they can only see metrics that are visible within the pages they have access to, such as on the Planner page or Connect page. Topic Managers cannot follow links to reports on the Analyze page.
When configuring campaigns (Smart Campaigns or via Connect), target users subscribed to their assigned topics.c
There are no restrictions regarding who created the content or campaigns. For example, if a Program Manager publishes content to a topic that a Topic Manager can see, then the Topic Manager could modify the content.
b Direct publishing has limitations for Topic Managers in addition to assigned topics. Please refer to the article on direct publishing for more detail.
c

There are some optional program features for Topic Managers. For each of these options, if enabled then the expanded access would apply to all Topic Managers in your program.
Please contact your Firstup Account Team for more information about enabling or disabling these optional program settings.
Publish as Different Author - by default, Topic Managers can only publish as themselves or "the program". An optional program setting is to open up access to Topic Managers to choose any Registered Studio user as Author, just like Administrators, Program Managers, and Publishers.
Connect Access - by default, Topic Managers cannot access the Connect section. An optional program setting is to open up access to Connect so that Topic Managers can create emails from the Campaign page.
Targeted Audiences - by default, Topic Managers can only target users that are following their assigned topics (groups such as Subscribed to: <topic>). An optional program setting is to allow Topic Managers to target all users that are targeted by their assigned topics. This refers to targeting audiences while creating a campaign, such as email or Smart Campaign.
Find out more on how to leverage the Topic Manager role in your community.