Why Manually Add or Import Users?
Manage Adoption Metrics - upload all of your employees and track your registration rate.
Invite Users (Email and SSO programs) - "Pre-register" new users so that you can target them with Studio email campaigns such as invitations.
Grant Studio Access - Grant studio access to new users using import users or add program user. If the user already exists in the program, please use View/Edit to promote the user to a studio role. You can add a new Studio user with your level of Studio access or lower. For example, a Program Manager cannot add an Administrator, but a Program Manager can add a new Program Manager, Publisher, Channel Contributor, or Analyst.
Create a Custom Group - Use import users to create a new group for targeting campaigns, channels, etc.
Bypass Domain Whitelisting (Email programs) - if added or imported to the program, users automatically pass the domain whitelist check during email registration. Imported/added users must still complete all other Authentication Options, such as User Verification or Questions.
Note, manually adding or importing users does NOT allow for importing custom attributes for each user. If you have employee data such as department, location, etc., that you would like to sync with user profiles when those users sign in, please review automated options for User Sync.
Import Users
Manually import users in bulk. You can assign Studio roles, invite the users after upload, and use the group that is automatically generated for targeting channels or campaigns.
Navigate to the Manage > Users page for your program.
Hover over Add User and click Import Users from the dropdown menu.



Click Choose File to select a CSV (.csv) or Microsoft Excel (.xlsx) file.

If you do not have a file ready to upload, click the hyperlink to download a sample file template with example headers to use to create your file for upload.
Fill out the fields in your file.


First Name - required.
Last Name - required.
Email Address - strongly recommended for all programs, required for programs with email registration or SSO where NameID is an email.
Alternate Identifier - recommended for any program that leverages an alternate identifier, required for programs with SSO where the nameID is an alternate identifier (no email passed to SocialChorus). We recommend listing both an email and the alternate identifier so that you can contact the imported users via email for invitations etc. The Alternate Identifier is a unique value per user. Ensure more than one user does not have the same alt id in your file.
Program Role - optional. If left blank, the user will be imported as a Member. To assign studio roles upon import, match the role titles exactly: Analyst, Channel Contributor, Publisher, Program Manager, Administrator.
File Notes:

extra columns in the file will be ignored during the upload
column headers are accepted in any order
empty rows are ignored and will not prevent the file from uploading
file column headers are case insensitive
random characters in rows are ignored
optional columns do not have to be kept in the file (e.g. Role)

Click Upload to start the upload process.
After exiting the upload window, click on the Imports page to review the status of your upload and/or invite the users.
Refresh the Users page to see the new users.
After a user has been imported:
The Created/Invited user can register for the employee experience via Join Now or you can invite them to register for the program using invitations.
Successfully uploaded Studio users can now access Studio.

Studio users are automatically sent an invitation to Studio.
If they already have an email-based password for the employee experience, they can sign into Studio now.
If they have no email-based password, Studio users can create a password by following the Studio invitation link or Studio users can go straight to studio.socialchorus.com and click Forgot Password to trigger a password reset email. Once they set a password, they can sign into Studio.

Import Users automatically creates a custom group of the users in the uploaded file (including Duplicates). Access the group and change the group name via the Imports page.
Reviewing Uploaded Files on the Imports Page
After uploading a file, information about your file will be listed on the Imports page. Imports will help you view and take action on your uploaded files, as well as information about the files uploaded by other Program Managers or Administrators. The Imports page lists all of your program's uploads, their status, errors, and reports. The Imports page is also where you can launch a draft invitation campaign for the users in your file, or navigate to the custom group automatically created via Import Users.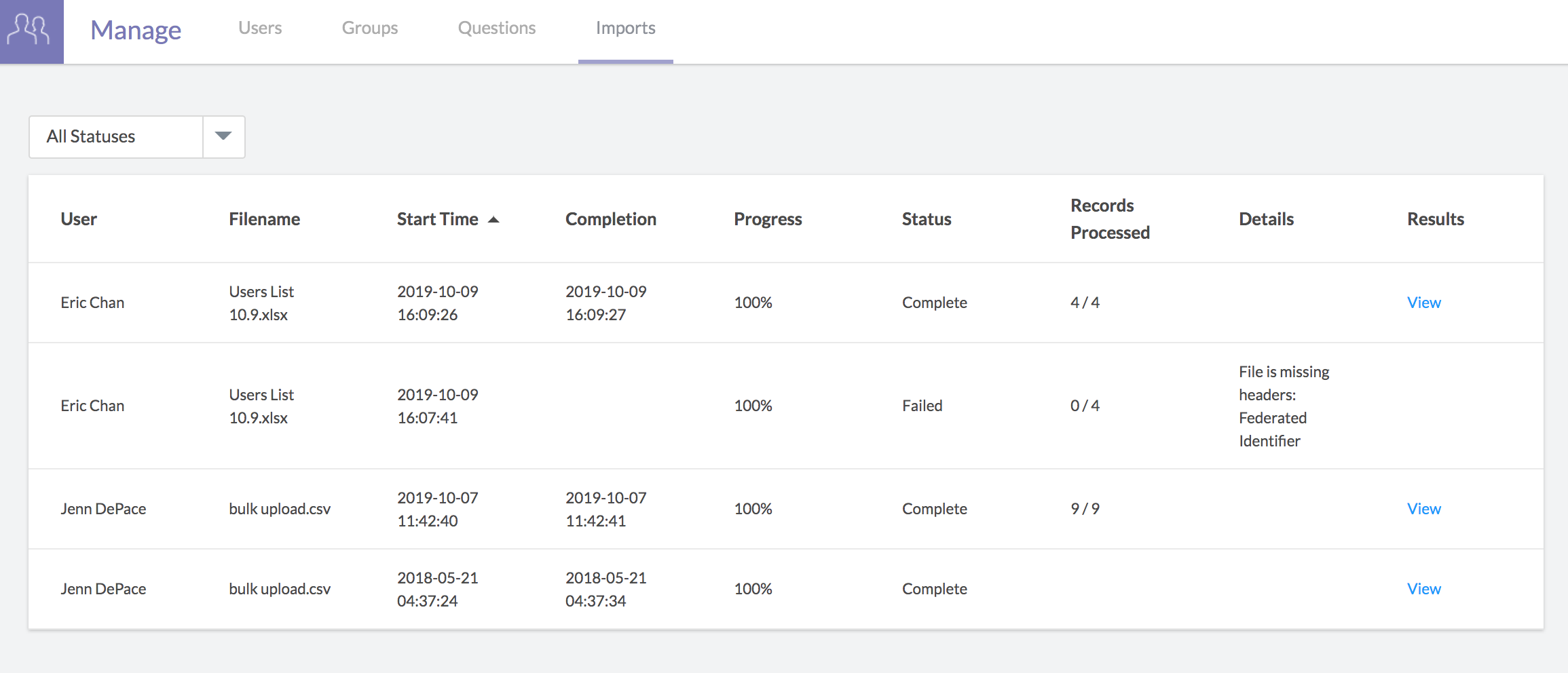 From the Imports page, you can filter to review the status of your uploaded file.
Status Definitions
Processing - the uploaded file is still in progress.
Complete - The upload was successful.
Failed - the upload failed and no new users were created in the program. Review the Details column to see the error details. Most errors can be resolved by editing the file and attempting a new upload. Return to the Users page and select Import Users to upload your new file.
Partial - the file upload is complete but skipped rows. If a file is listed as Partial, you can click the hyperlink to downloads a file of ignored rows.
Once the file is Complete, click on View under the Results column to open the Import Report modal. Review file details and complete further actions, like sending an invitation email or viewing the created group.
The Import Report modal also includes information about the number of users in each Role who have been added to your program, and the number of duplicates. Duplicates indicates how many users in the file were already in the program (or listed in the file more than once) and therefore were not imported or updated. The non-duplicates were still imported. To update the role or other information of a duplicate, please return to the User's page and use View/Edit to modify the user's profile. All duplicates are still included in the custom group created by the file upload.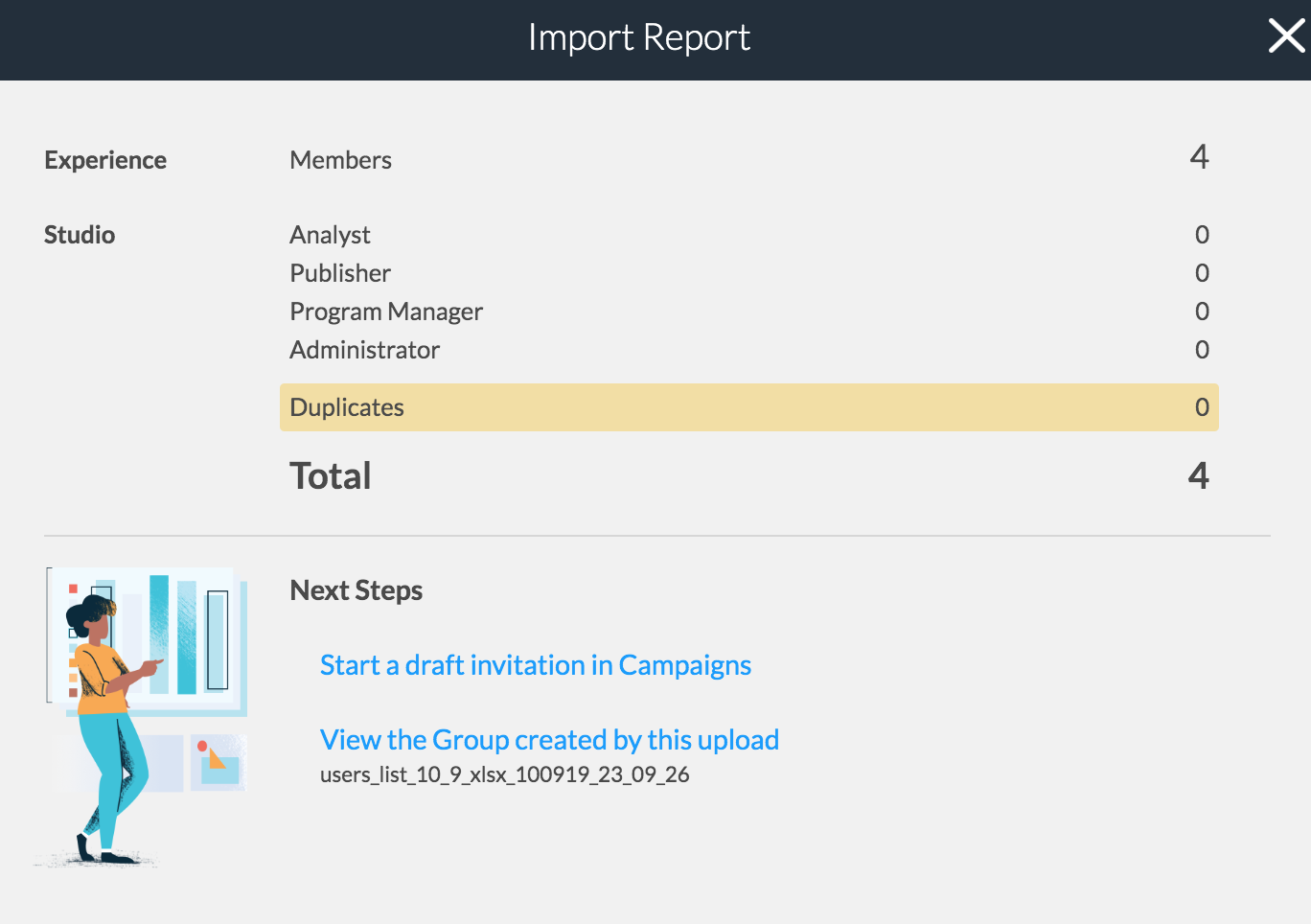 Add User (Individual)
If you would like to quickly add one user, you can follow these steps. When you add an individual user, studio invitations are sent out immediately and you can choose to send out employee experience invitations as well.
SSO Note: If you have SSO authentication, Add User should only be used if your IdP passes an email to SocialChorus. If you have a program that is configured for SSO and you do not use emails as NameID (you only have an alternate ID), you should use Import Users instead of Add User.
Navigate to the Manage > Users page for your program.
Click Add User to enter the Add Program User window.

Enter all information:
First Name and Last Name
Email Address (lowercase letters only)*
Program Role

If you select the Channel Contributor role, you will see a field to select which channels the user can contribute to. Click Assign to Channels to open up the full channels list. Add at least 1 channel from the list.


Send email invitation to employee experience (for both members and Studio users).

An email invitation to register for Studio is automatically sent to all Studio users. If adding a Studio user, the checkbox can be used to send an invite to register for the employee experience in addition to the invitation for Studio.
Click Add to save the user, they will appear on the Users page as Created or Invited (depending on whether an employee experience invitation was sent).
After a user has been added via Add User:
The Created/Invited user can register for the employee experience via Join Now or you can invite them to register for the program using invitations.
Studio users can either follow the studio invitation link to create their password, or go straight to studio.socialchorus.com and click Forgot Password to trigger a password reset email.
*Known Issue: If you see "email value has already been taken" while using Add User with an email with uppercase letters (such as Example@Domain.com), please switch to all lowercase letters (example@domain.com). There is a known issue with title case or upper case letters.