Here is one way to think about Content Types when creating content:
You Have...

You Want Content To Be...

Video

Video file

Hand-Written

YouTube, Vimeo,

or Kaltura link

Auto-Generated

Image

Image file &
short text

Hand-Written

Article

Long text,
custom content, files to attach

Hand-Written

Link

Link to a webpage

Auto-Generated

Note

Short text

Hand-Written

Poll

A single question

Hand-Written
Looking for more information? The article below reviews the details of each content type in-depth, highlighting the differences between the types.
Video Post
Video posts are some of the most engaging content you can publish. Video posts are great for both private video files (such as MP4) and public or unlisted videos hosted at YouTube, Vimeo, or Kaltura. Video cards drive engagement by displaying a play icon that draws viewers in.
The video upload tool can handle up to 500 MB, and a variety of video formats (MP4, MOV, etc.), but we recommend much smaller videos if possible. The smaller the video file size, the more friendly your post will be to slower data connections.
Videos can be set to shareable, which creates a public-facing version of the post hosted by Firstup.
Video Uploading & Processing
Video posts are the only post with 2 steps to uploading the file - Uploading and Processing:
1) Uploading
When uploading completes you will see "Video saved". The post can be found on the Planner page when filtered to Drafts.

If uploading fails for any reason, the video must be re-uploaded.

After uploading completes, processing will begin automatically.
2) Processing
You can exit Create Post and return without interrupting processing.
Processing usually takes 1-10 minutes to complete.
When Processing completes you will see "completed", a video preview, and you can now publish the post.
The 'Use video thumbnail' link takes a frame from the uploaded video.

If you do not like the image displayed, you can upload a new video thumbnail as the card image to display behind the play button.

The '<> Embed code' link provides embed code for your video if you want to include it in the body of an Article.
If the processing fails for any reason, please contact Firstup Support.
Image Post
Image posts are ideal for very visual content. The text is downplayed and the image is treated as front and center. We find that Image posts are almost as engaging as videos.
Article Post
Article posts are perfect for extensive hand-written content. There are many features for customization, including unlimited character count, font formatting options, templates, code view which lets you use HTML to embed content like surveys, upload and attach files, and more.
Articles can be set to shareable, which creates a public-facing version of the post hosted by Firstup.
To help you gauge the length of your post, we show a word count and estimated read time.

Link Post
Link posts are a great way to drive members to external sites such as your company website, useful blogs, or even an intranet. Generally, if you have a URL or link, the first content type you should consider creating is a link post.
Link posts are one of the quickest posts to make, as link posts automatically generate an image, title, and description based on the original website. While creating a link post, just paste the URL into the Enter a URL field:

The auto-generated information can be customized:
Choose between multiple images (if available)
Upload your own image
Edit the title/description
If you have a link for a video hosted by YouTube or Vimeo, check out the Video type.
In the employee experience, members see a link card with the image, title, and description in their feed. When a member clicks on a link card they go directly to the original website.
If a link card is shared to a social network, the social network will create a link preview post based on the original URL.
Link preview posts in social networks generally create a clickable picture (when clicked on, the image opens the website) with a title and description.
Sometimes, when sharing a content card from Firstup to a social network, the image or text of the link card changes. This happens because the target social network is finding the information at the original URL using their own unique algorithm.
Note Post
Notes are one of the quickest posts to make in Studio. Note posts are perfect for quick, text-only updates, like announcements or quotes.
For long messages we recommend Articles. Therefore, if your note's caption reaches too many characters a prompt will appear asking if you would like to convert your note to an article. Once you click the link and convert the post to an article type, you cannot revert it back to a note post.
Notes do not have font options and have no Shareable option. For font customization and shareable text, please refer to articles or images.
When creating a note, you can select the color associated with the note. Choose between a set list of colors that are standard across all programs, in addition to two that are specific to your own program's configuration - the Accent Color and Theme Color.
Your Accent Color and Theme Color are only available when creating Notes from Studio.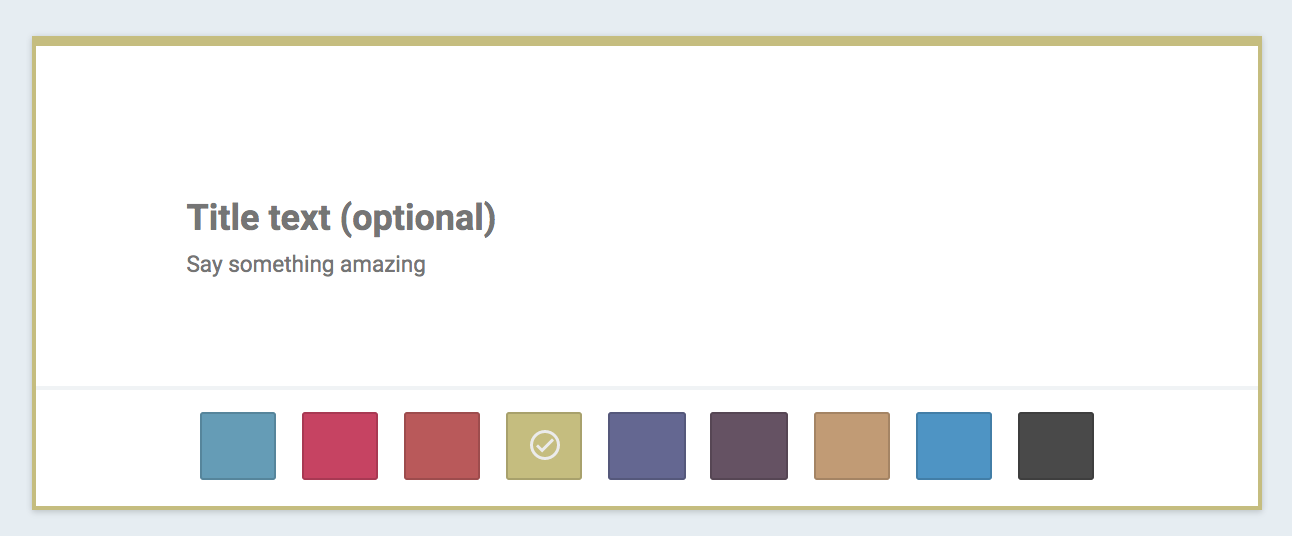 Polls
Review our full article on Polls here.